Ignition system – ACCDI

Features
ONE hardware for XT125-TW125-SR125/XT200/XT225/XT250/XT350/XT400.
Another similar unit is available for XT550/XT600/SR600/TT600.
Use a simple web browser on any smartphone or laptop.
Easily select your model through WiFi connection.
No timing curve to program Just select your bike in 3clicks.
1 timing curve for each bike already programmed in the unit.
No internet access required.
Rev from 10 to 10,000 RPM.
Easy start without kickback.
Hard rev limiter.
1 input for the inductive pickup (VR).
VR conditioner to extract pickup signal in noisy environment.
1 output for the ignition coil.
Non volatile configuration.
Once programmed*, run with 6Vdc, 12Vdc or even no battery
* 8 to 18 Vdc power supply is needed for the very first programming.
Current drain: 30mA – 100mA.
Protected against reverse supply voltage.
Dimensions: 100 x 60 x 25mm (3.9 x 2.4 x 1inch)
Plastic box potted for Electrical insulation, Protecting components from mechanical shock and vibration, thermal shock or moisture.
---
Wiring
Wiring XT125-400 | 12 pins Connector XT125-400
Wiring XT550-600 | 12 pins Connector XT550-600
---
Setup
---
Pickup:

Click here for more info
Pickup Polarity
Pickup Polarity MUST be Positive then Negative.


Check the polarity of the pickup (Negative going then Positive/(I call it NP) or the opposite PN: Positive going then Negative) with a Needle galvanometer (in milliAmp position) while kicking.

If the polarity is Negative then Positive(NP) then swap the wires to change the pickup polarity !

---
HowTo setup
No need to wire the ignition to the bike for this step, it can be done on the workbench.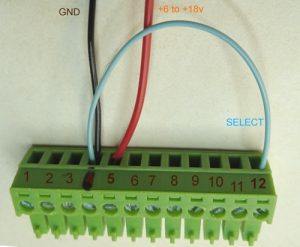 The 12pins connector has a marker trace on pin4 which is Ground.
1) Wire a bridge between pin4(gnd) and pin12(Select).
2) Connect a Black wire from pin4(gnd) to the black plug of a 12v battery. (Ground)
3) Connect a Red wire from connector pin5 to the red plug of the battery (+12v).
This step MUST be done AFTER the bridge (step1) is in place !
4) After a few seconds a WiFi Access Point named "Transmic_cdi" shows up on you laptop/smartphone.
6) Connect to "Transmic_cdi". (If a password is asked, use "password")
7) Open http://192.168.4.1 (Avoid Chrome that automatically switches to https)
8) Pick your bike, click "Send":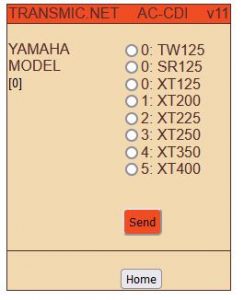 That's it! Timing curve for each bike is already programmed in the unit.
9) Remove the bridge from pin4 to pin12 when setup is done.
10) Power off the ignition box.
---
Diagnose with LED.
Click here for more info
– When the box starts in RUN Mode, the Led turns ON until a pickup is detected.
XT125-400: As soon as a pickup signal is detected, Led flashes each rotation.
XT550-600: Led flashes come from the 36° pickup only.
The 12° one doesn't make blinking but trigger the CDI directly. The bike ticks over with 36° pkp disconnected.
When the Maximum RPM is reached, the led turns off. If minimum RPM is reached, led turns off.
– When the box starts in SETUP Mode : Led blinks 5 times before flashing once every 5 seconds.
When data are received via WIFI, led briefly flashes.

---
ADVANCE CURVES.
---
PHOTOS.
XT125 – 12V – 1989 + ACCDIv11xt125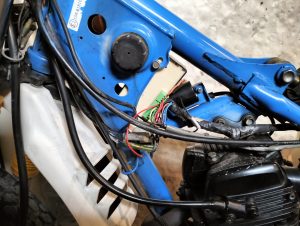 XT600 modded and stuffed into a Penton 250 chassis + ACCDIv11xt550
Hand made seat/fender, headers & exhaust.

---
VERSIONS


Version v11r0c0:
Version v11r1c0:
---