This DC-CDI is EOL (End Of Live = no more parts, support, update)
Consider to build DC-CDI v7 instead
---
Adaptation done by:
Characteristics
Same software as AC-CDI v7
For single cyl.
1 advance curve.
No alternator.
DOWNLOAD
How does it works?
Software is the same as AC-CDI version 7
Only the Hardware is different: High Voltage is no more coming from a charging coil, but it's generating from the 12v battery.
A UC3845 is driving a home made transformer that raise the tension from 12Vdc to around 200Vac.
The HV is rectify by D1 and charges C9 capacitor.
Pulses coming from the 36° pickup are limited to 5 volts by D7 Zener then trigger the PIC (RB4 – pin 10).
(PIC input detect any tension higher than 1,8 Volts.)
D2 LED turns on at each pulse received from sensor 36°. (You can remove R17 and LED2 if not necessary)
A delayed pulse, according to the programmed advance curve, is available on RA2 (pin 1) and trigger the SCR T3 via LED1,R12-C14.
The pulse also stops the High Voltage through T2 and shutdown pin1 of UC3845.
The polarity of the pickup is very important, don't hesitate to invert the 2 wires of the pickup.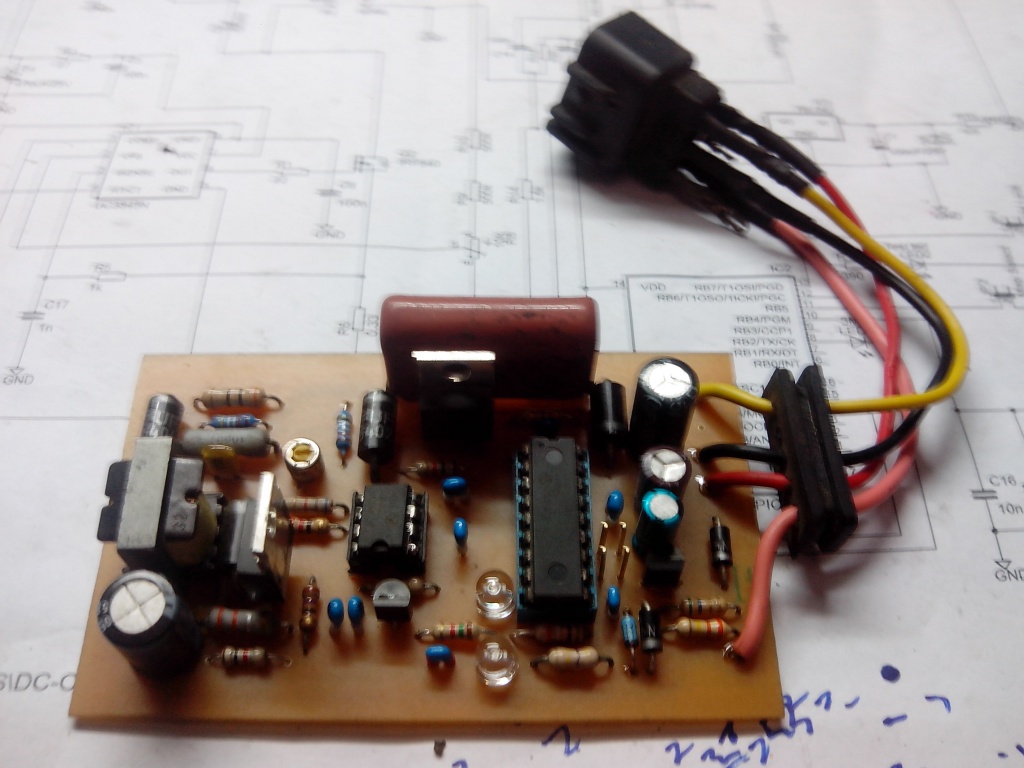 SCR is BT151-500
FET is IRFZ44
(High power with shottky diodes integrated and very low internal resistance)
Diodes are fast rectifier diodes ( BR307 , UF5408 …3A-1000v)
Same bikes needs to lower R19 resistor value.
Exp: for Suzuki 125cc: R19 must be 560ohm (instead of 330k)

Transformer:
Bobbin E 19/8/5 + Ferrite core EI19 (width:19mm height:14mm)
https://aliexpress.com

You can also use EE19 or E25 or ETD29.
The bigger the number the bigger the transformer and the stronger the spark.

Primary : 0.6mm , 15 turns
Secondary : 0.2mm , 350-400 turns (as much as you can because it's flyback)
Wind the primary and secondary in the same direction (clockwise or anti-clockwise BOTH)
Leave a 0.05 to 0.8mm air gap between the 2 legs of the magnetic core.
Try different air gap walue, it's critical and can avoid the Transfo to saturate.
The Transformer behavior depend on many factors: core, ferromagnetic material, shape, size, air gap, tension, frequency, duty cycle, primary coil, efficiency, temperature, etc etc
It's normal to face overheating and spikes when dealing with high currents and high voltages !
Do not operate without ignition coil (CDI Need a load on output cause it's a boost converter)
Frequency:
R4, C7 are used to setup the oscillor frequency.
Fosc = 1.72 /( R * C ) = 1.72 /( 33k * 1nF ) = 0.50MHz = 50KHz
Fosc is the input frequency of PWM controller and output frequency provided by PWM controller is Fosc/2 = 25KHz which used as the switching pulse of MOSFET switch.
The frequency has a lot to do with output voltage. The ON time must be long enough to let current increase to the required level, in order to get the desired output volts.
You may want to experiment other frequencies.
The duty cycle of pulse is controlled by the feedback control loop. (IC1 pin2)
The greater the duty cycle, the greater the output Voltage. Until some point…
When FB pin is high it cause the output PWM to switch off and the MOSFET will not get triggered.
When FB pin is low it generate output pulse of high duty cycle to the MOSFET.
Oscillator IC:
Use a UC3843 with a Max. Duty Cycle of 100% instead of a UC3845 with max Duty= 50%
With a UC3845 we get a max voltage of 140Vac at 12000RPM with a transfo wired with primary 12T and secondary 700T
With a UC3843 we get a max voltage of 280Vac at 12000RPM with a transfo wired with primary 12T and secondary 180T
If you are facing mosfet overheating, considere switching to UC3845 to lower the duty cycle.
– Thanks to Irfan Galuh Sayoga
Mosfet:
You need to verify if the mosfet goes completely ON and OFF. Measure the voltage across the mosfet both ON and OFF and calculate the internal resistance.
If the internal resistance in higher than the datasheet value, it mean that it doesn't totaly turn ON (it needs 10v for a guaranteed Rds)
– Increase Gate voltage by reducing R1 value
– Decrease Drain voltage by lowering the current
(increase R6 or install a low ohm resistor in the current path)
Use R6 to read volt level across it when the mosfet is ON and when it's OFF
Calculate values for current when both ON and OFF.
These are good indicators of what's going on…
Mosfet can only dissipate 2watts: Add it a big heatsink with thermal paste.
Protection:
When CS pin3 of UC3845 goes beyond 1volt IC1 output is automatically switched off.
If Tx secondary is shorted, Q2 will drive a high current, tension at R6 will increase and pin3 will go high.
Snubber:
D2, R2, C3 are used as a snubber to protect MOSFET transistor.
D2 is a fast diode type(BYV26C…)
R2 goes from 100 to 100k
C3 goes from 2nF to 10nF
Use a snubber calculator
If the MOSFET is getting hot, you probably have to change the snubber value according to your Tx windings…

Tachometer:
[TP1]: A output is available at RB5. It can be use to drive a tachometer with the need of some other components.
The tacho output is a +5v level and 5% Duty Cycle signal.
For tachometers that need a +12v level at 50% DC signal a external processor is available here:
Duty Cycle Converter
Rev Limiter:
If RA1/pin18 is connected to ground BEFORE power up the CDI, then RPM limit setup in XLS [cell M32 of Advance_curve tab] is activated.
To deactivate the rev limiter, add a 10k pullup resistor to +5v.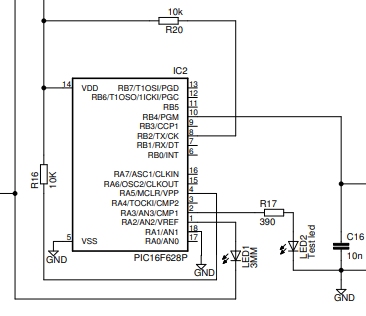 ---
DIAGNOSE with LED

– At startup, Led D2 flashes 1 to 4 times and goes off meaning that PIC .HEX software is OK.
If it doesn't flash, something went wrong with the programming or is wrong with the power line…
– 1 time = PIC has been reset because power went below +5v.
– 2 times = PIC has been reset because +5v power went off.
– 4 times = PIC has been reset because of the RESET pin4.
– blink forever = Eeprom is empty
– When PIC input pin10 is high [>2.4v], led D2 is on. So D2 LED pulses with the pickup.
If D2 LED always stays ON, that mean either:
– pin10 is always high! => Measure pin10 and try to lower R19 to 1.8Kohm or less according to the pickup…
– or CDI is in "Autospark" mode.
---
Videos.
This ignition fitting a Honda SS50:

Tested with the pickup simulator: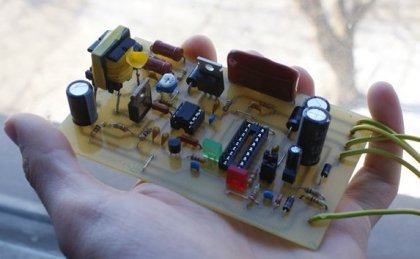 ---
Versionning.
Version 2.0:

Initial release with a home made transformer.
Use AC-CDI v6 software.
Version 2.1:

PCB redrawn.
Use AC-CDI v7 software.
Version 2.1c1:

Improve readability of Ref on PCB.