---
[ARCHIVE] This ACCDI is EOL (end of live) and has been replaced by AC-CDI v10
---
Features
AC-CDI

For [2 strokes engines] and for [4 strokes engines with wasted spark*] * On 4stk engines with 1 pickup on the crankshaft, one spark occur at compression stroke and one at exhaust stroke. Firing in the exhaust stroke is a wasted spark. Hence the name…
Microprocessor control unit
Wireless and easy programming and the fly via smartphone or laptop
Compatible Android, IPhone. Windows, Linux
Programming security:

Only possible when engine is stopped.
Only possible when ignition key is ON.
One programmable ignition curve
Rev from 200 to 20,000 RPM
Adjustable timing in 10 steps from 1000 to 10,000RPM
Adjustable timing at very low RPM (~250RPM)
Soft rev limiter.
1 input for a inductive pickup
Selectable pickup polarity (2 types)
1 output for a capacitive coil type
Non volatile configuration
Tachometer output
Kill switch
Power supply voltage DC 8 to 16 volts
Current drain: 10mA in Ignition mode (80mA during Wifi mode)
Protected against reverse supply voltage
Dimensions: 80 x 55 x 34mm (3.2×2.2×1.3inch)
Plastic box
Made in France
Only available in the SHOP section
Source and hardware not available
---
Cylinders:
Single-cylinder:
If there is one separate pickup
=> This AC-CDI works.
If there are 2 separate pickups (one for low RPM and one for High RPM)
=> This AC-CDI works.
If there is no separate pickup and the timing is done by using the High Voltage of the stator
=> This AC-CDI will not works
If the engine works with missing teeth
=> This AC-CDI will not works
* Twin-cylinders:
If the engine works with WASTED spark and if there is ONE twin coil.
=> This AC-CDI should works.
If the twin engine doesn't support wasted spark:
=> This AC-CDI will not work
See: CDI compatibility
Remember that ignition coils are different from TCI to CDI system
– CDI coils have low inductance and impedance around 0.5-0.8ohm
– TCI coils have higher inductance and impedance around 1-3ohm
Remember there are AC-CDI and DC-CDI…
---
Pickup:
– 1 input for inductive pickup with 1 signal per crank rev.
or for 1 inductive pickup with separate output for low and high rpm (XT600)
– Pickup must give 2 to 30Vac
– Points, reluctors, Hall sensor, optical sensors can be used as long as they give only 1 pulse per revolution.
– CDI is not compatible with multi-pulses pickup or missing tooth wheel.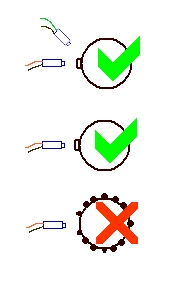 – input for low pickup if any.
– Jumper JP1 can be choose to help cranking: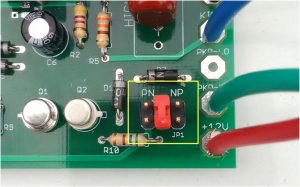 Jumper on PN position if the pickup is POS/NEG (ie Yamaha)
Jumper on the middle position : Default position: No help at cranking.
Jumper on NP position if the pickup is NEG/POS (ie Suzuki)
Pickup position BTDC
Understand the pickup setting.
---
Rev Limiter:
There is no "Hard rev limiter" that stop all sparks above a given RPM
but you can drop the timing back far at high end so the engine cannot rev more.
---
Wiring: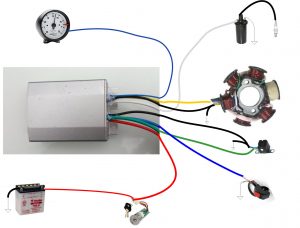 ---
WIRELESS Setup:
To proceed to the initial setup
First connect the wiring of the AC-CDI
Turn the Kill SW on. (Kill wire connected to Ground)
Next turn the Master Key on (+12Vdc)
After earing a bip sound from the CDI, seek for "transmic_cdi" wifi network on your smartphone.
Connect to the Wifi Access Point (no password needed)
Open up a regular browser. Point it to https://transmic.cdi or http://192.168.4.1
You get this home page:

Click on the Configuration button and follow this video:
Wireless Setup
When finish turn the Kill SW and the master key off.


NB: Each time you log on the CDI the form display a pickup position of 52° which is the default value, but not the value you had previously entered.
---
Troubleshoot with LEDs:
In CDI mode, with KILL SWitch not connected to GROUND:
Red led blink 3 times then both led are OFF => CDI is in ignition mode.(default mode)
Videos: mode_CDI mode_CDI_slowmotion
In Access Point mode for wifi programming, when Kill switch is connected to GROUND prior to turn the master key ON:
– Red led blink 3 times
– Buzzer ring
– Red and Blue led are steady ON. => CDI is in Programming mode
– After 5 seconds, buzzer ring => CDI is ready to be programmed
Videos: mode_AP mode_AP_slowmotion
The Blue LED turns off during Wifi communication with the processor.
---
Kickstart Setting:
it's the length of time the cdi box will retard the timing for anything under 500rpm.
Values are around 15 to 30ms. You can use this Excel sheet to calculate how much advance it would give at crank speed.
---
WIFI range:
10 meters distance from the CDI (compared to a regular ISP box at same distance):


---
Consumption:
Version 9.3 has drastically reduce the current needed in CDI mode.
Only 10mA and 14mA with sparks. Can be powered on with a simple 9v battery cell.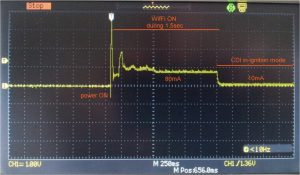 ---
BOX: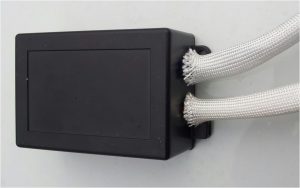 ---
VERSIONS
Version 9.0:
Version 9.1:

[Hard] Less components, lower price.
[Soft] Blue LED blink during wifi communication as a feedback.

Version 9.3:

[Hard] Plastic box for better wifi. Use SMD parts for smaller PCB
[Soft] Consumption divided by 6 ! Can now be powered by a 9v battery.